CG Fry & Son: Building a workforce fit for the future

With the construction sector in the midst of a skills shortage, CG Fry & Son is proud to being playing its part in tackling the issue and has welcomed seven new apprentices to the company this year.
Carpentry, bricklaying, joinery, site management and architecture are the trades that have seen an intake of apprentices, adding to the two carpentry apprentices who joined the business last year.
Two students at Bridgwater and Taunton College are gaining invaluable hands-on experience via their apprenticeships with CG Fry & Son as they train for roles as a Trainee Site Manager and Architectural Technician. The builder is also using active sites, such as The Castle School in Taunton where it is constructing a new Design Technology block, to provide work experience for students keen to enter the construction sector. So far, the scheme has enabled one student interested in becoming a bricklayer to shadow the team on-site, with further opportunities becoming available as construction progresses.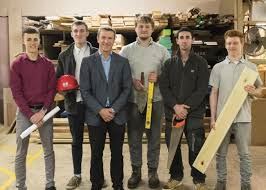 Philip Fry, Managing Director of CG Fry & Son, commented:
"We are very proud to be able to offer apprenticeships at CG Fry & Son, which we hope will go some way to addressing the skills shortages in the construction trade. It is important that we work closely with leading industry training providers to invest in the next generation."

"The government has set a target of recruiting three million apprentices by 2020 and we fully back these plans to reform the industry and promote apprenticeships as an effective way for young people and adults to enter the workforce equipped with the necessary skills and relevant work experience."

"We are also engaging with schools and colleges, as well as our local Construction Industry Training Board (CITB) and Young Enterprise teams to educate pupils – and their parents and teachers - about the huge variety of jobs available in the construction industry and providing employability and business days. We need to challenge misperceptions about the industry and promote it as exciting and appealing, after all, we need a wide range of skills to design and build the new places and communities of the future."
Released On 7th Jan 2019
You may also be interested in
7th Jan 2019
As a result of significant growth and difficulties recruiting, Thatchers is taking matters into their own hands by increasing investment into training and development, and by creating a tailor-made apprenticeship programme called Thatchers Young Talent.
11th Dec 2018
Weston College is set to play a lead role in tackling the construction industry skills shortage by opening a state-of-the-art industry focused training centre.