Thatchers creates Young Talent Programme

Thatchers Cider is a fourth generation cidermaker based at Myrtle Farm, in Sandford, Somerset. As a family run company we know it's important to keep moving forward and as such we've experienced significant growth over the last ten years. When recruiting the additional staff we've been looking for in line with this growth, however, we've found two things – firstly that Thatchers has not been front of mind with school leavers and graduates, and secondly that there has been a distinct lack of knowledge about careers within the food and drink sector. As a result relevant apprenticeships have been limited or indeed not appropriate for our requirements, and the quality of applications we have been receiving has been generally poor.
So, we decided to take the matter into our own hands, and we set off on the journey of creating our own apprenticeship programme to attract the best people and increase our investment into training and development. Starting from a blank sheet of paper, and after twelve months of development, we have introduced the Thatchers Young Talent Programme.
In its first year, the main aim of the initiative has been to increase the number of applications and expressions of interest from young people looking to work at Thatchers. We have now seen the first cohort of 17 fantastic young people, apprentices and graduates, embarking onto the scheme.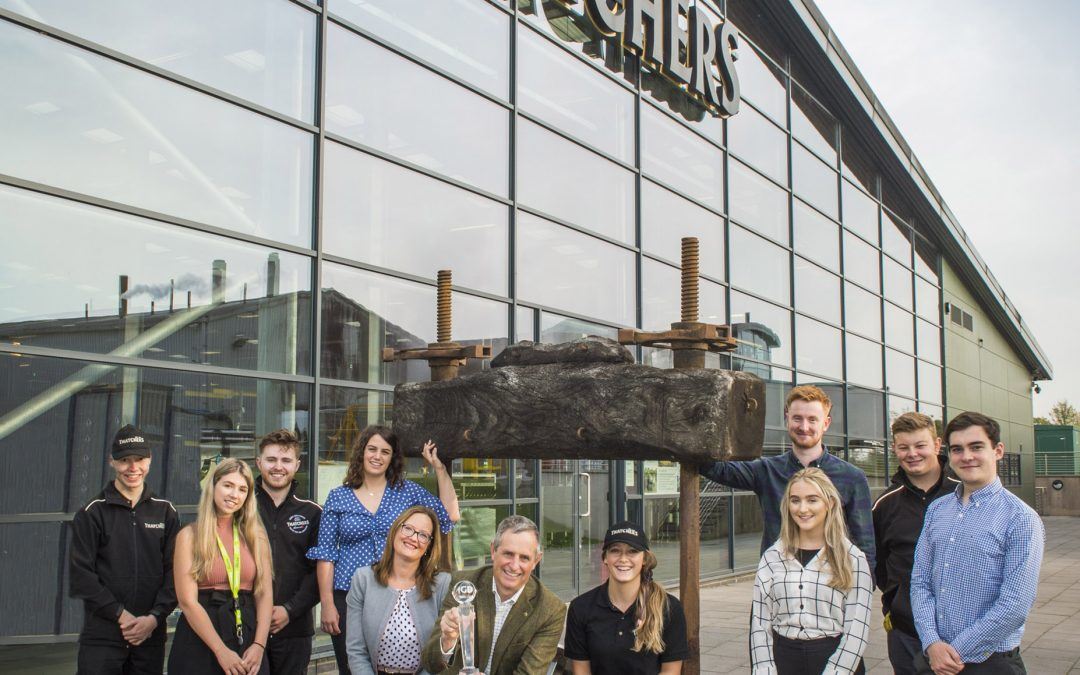 Our aim for the Young Talent Programme has been to Inspire, Educate and Lead.
Our programme will result in each apprenticeship and graduate undertaking mentoring and skills development in three key areas: commercial awareness, employability skills and technical knowledge.
We've worked closely with local schools and colleges to create the programme, resulting in apprenticeships developed for two tailored pathways to meet our own skills objectives - Cider Technician Apprenticeship (L2 food and drink process operator apprenticeship combined with a bespoke cider programme) with Bridgwater College; and Brand Apprenticeship (the L3 Business Administration apprenticeship with Weston College). Meanwhile the graduates are following a bespoke Thatchers training programme, using industry led training to support their development and knowledge.
Thatchers is a levy-paying employer, so we have used our funds carefully to look at how we can develop our apprenticeship provision to not only increase the skill set of our Young Talent but also to enhance the training and development of our current employees.
Released On 7th Jan 2019
You may also be interested in
7th Jan 2019
Now entering its 8th year, Strode College's link with the city of Yueyang has been described by the British Council in Beijing as the best example of an effective and durable UK-China partnership and has had a major impact on education in Somerset.
11th Dec 2018
Somerset Talented Academy inspires students after a visit to Numatic International in Chard.