Somerset Education Business Partnership Launch
Over 70 education and business partners gathered for the launch of Somerset Education Business Partnership on 24 October 2018.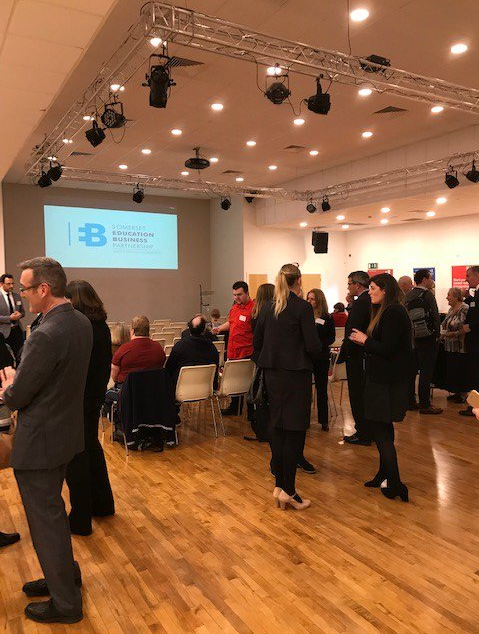 We are pleased that all delegates that completed an evaluation found the event informative, whilst 87% found it inspiring. More importantly, we are grateful for everyone's contribution to the breakout discussion groups. Please read our summary of points that were made in each of the four groups – these will inform our developing work.
With special thanks to our guest speakers and EBP stakeholders who contributed to the evening's events:
Dr Fiona McMillan OBE - Chair of the Hearth of the South West People - compered the EBP launch event, providing an overview of the challenge of strengthening business and education engagement.
Councillor David Hall - Somerset County Council - commented on Somerset having an economy worth £11.1 billion and higher than average employment rates. However, too many jobs are low-skilled and low-paid. By increasing the quality of employment in Somerset we can ensure that our home-grown talent stays in the county.
Stephen Henagulph - CEO Somerset Chamber of Commerce - emphasised that businesses can help by engaging in careers and enterprise work. The strong response to the Somerset Education Business Partnership to date shows that employers are willing to partner with schools.
Harry Tavare & Claire Merchant-Jones - Somerset County Council - highlighted how employers can make subtle and reasonable adjustments in order to support people with additional needs gain employment. Claire spoke about the supported internships programme with EDF Energy HPC, which is currently providing 6 disabled persons quality work experience, and aims to see them all progress to paid employment after the internship.
Phillip Dyer, Alison Dyer & Nicholas Bowden - Trendbusters Film working with Somerset Film - showcased their film highlighting Somerset employers who are reaping the benefits of employing persons with additional needs and/or disabilities. Watch the film here.
Tom Thayer - EDF Energy - introduced the Somerset Talented Academies. A programme where a group of students visit 8 employers across 2 years. Academies are themed by employment sector - offering students a varied and unique insight into areas such as hospitality, aerospace and manufacturing. Read more.
Georgina Hainsby & Deborah Spence - Somerset Skills & Learning with Wyvern Nurseries - demonstrated an example of a training provider and employer working together to provide quality apprenticeships - benefitting learner and employer.
Joanna Whitehead, Melanie Roberts, Ben Eve, Julie Young, Caroline Derrick & Tracey Armstrong-Stacey - Somerset County Council & Sedgemoor District Council - acted as facilitators and note-takers during group discussions.
Thank you for all feedback we have a received as a result of the event. Comments included:
"We have been to many events like that and have to say this one was amazing. We spoke to so many useful people and have booked some meetings off the back of it. We would love to meet up and would love to be more involved in the EBP." Adam Rooke, Director, Professional Apprenticeships.

"It was my pleasure to attend the EBP launch event. It was great to have sight of some of the exciting initiatives going on across Somerset." Victoria Gage, Careers Hub Manager, Heart of the South West.

"I just wanted to say thank you for last week. The launch was really good and it was great to see all your hard work pay off." Tracey Prosser, Area Manager, Young Enterprise South West.
The Somerset Education Business Partnership Launch Event also featured in Somerset County Council's Our Somerset and Somerset Chamber of Commerce's Pulse.
Released On 6th Nov 2018