Maiden Beech Academy celebrate success at The Big Bang, Exeter 2019
Huge congratulations to Maiden Beech Academy from Crewkerne, who celebrated not one but two award winning projects at this year's Big Bang South West event which was held at the West Point Arena, Exeter.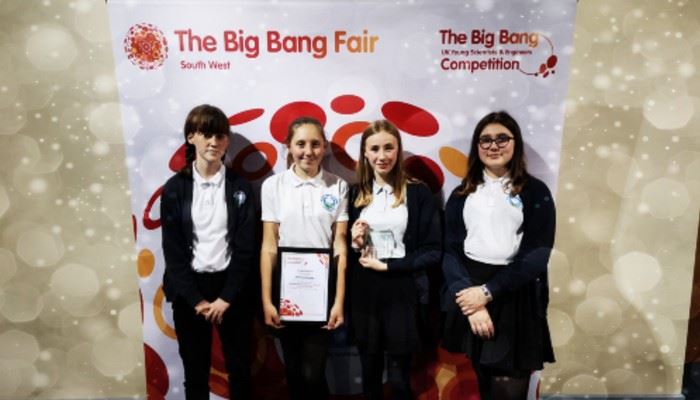 A group of Year 8 students from the school (pictured left) won the STEM Club award and the regional heat of the Big Bang Competition so go forward to the national Big Bang finals next year. Their project explored how to grow plants with the least amount of water possible. They investigated the best thing to add to soil to reduce water loss and promote plant growth (this turned out to be the used saw dust from guinea pig bedding) and which "grey" water was the best to help plants grow (washing up water). They are interested to see how they could apply this to help people in very hot countries grow food crops.
Louisa Ridgley, the students' science teacher commented: "The girls have worked really hard on this project. They have shown endless enthusiasm for the work and are really excited about developing their ideas for the finals. We are really proud of them."
A group of Year 7 students (pictured right) also won their regional heat and will enter the national finals with the Year 8 cohort. Their project investigated how non-recyclable plastic coul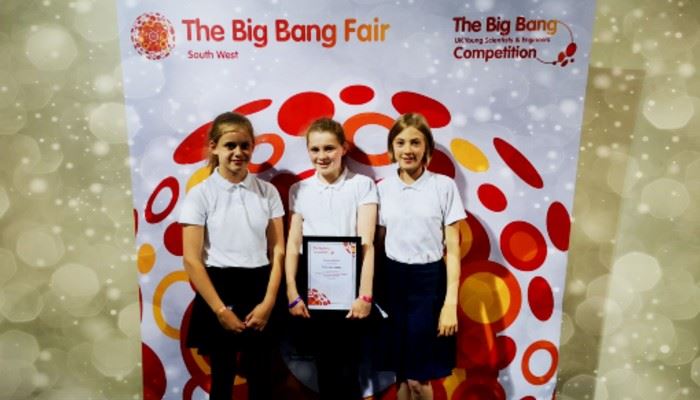 d be used for insulation. They shredded different types of plastic and used them to model insulation in our homes. The motivation for their project was to cut down on the amount of plastic in our oceans and on our streets. They were also interested in making home insulation cheaper and more environmentally friendly.
The students said; "We found out that shredded juice cartons gave the best results. We think this could have a real impact reducing pollution as there would be somewhere useful for all this rubbish to go."
Well done to all the students who entered projects at this year's event and good luck to all those going forward to the national finals!
Visit the website for more information on the The Big Bang
Released On 2nd Jul 2019