Heart of the South West Digital Skills Partnership
T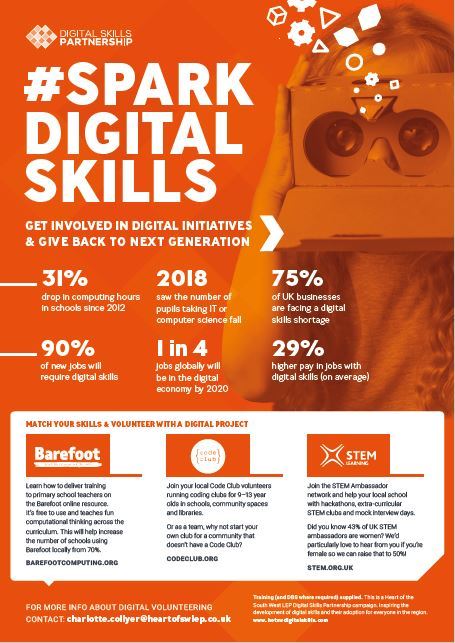 he Heart of the South West Digital Skills Partnership aims to drive up the development and enjoyment of digital skills in the younger generation.

Against a backdrop of falling take-up in schools and reduced teaching hours coupled with the rise in demand for digital and technology skills in industry, we're launching a campaign #SPARKDIGITALSKILLS. The campaign promotes three, free, digital initiatives that can be delivered in schools or community groups.
The aim is to connect digital savvy individuals with initiatives that could really benefit from their involvement. Some companies have a corporate volunteering allowance, this could be a great way to use that time! The programs range in time required from Barefoot which could be a couple of hours a month, to Code Club which could be weekly or rotated between a team, to STEM Learning who offer a range of ways to get involved from esports after school clubs to hackathons.
The HotSW Digital Skills Partnership would love to hear from you if can support this campaign. If you would like to get involved, contact charlotte.collyer@heartofswlep.co.uk for more details.
Released On 14th Oct 2019